Jan 15, 2018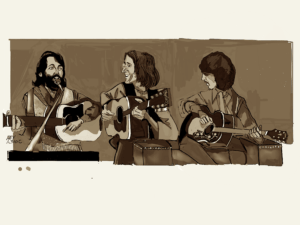 Picking up where we left off, we discuss an array of topics and songs, mostly adhering to the "acoustic Beatles" theme. (For some reason, we seemed to gravitate to the White Album a lot…)
But there's also much about the impact of success; the level of support the Beatles gave each other; George and the Traveling Wilburys; the US albums and the inherent comedy in and around their work.
Songs in no particular order include: "I Feel Fine" – "While My Guitar Gently Weeps" – "Junk" – "Two of Us" – "Norwegian Wood" – "Blackbird."
Dave Mirkin, who first guest appeared on SATB 122, needs no introduction.
The post 129B: "Acoustic Beatles" with Dave Mirkin 2 (This Time It's Personal) appeared first on Something About The Beatles.