Aug 18, 2019
[powerpress]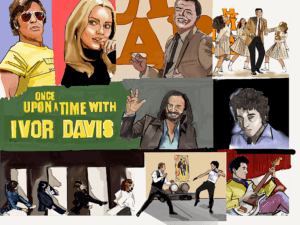 1969 was a tremendous year, in the world generally and with The Beatles as well. We find ourselves commemorating (if not celebrating) a number of 50th anniversaries this year, among them the infamous Tate-LaBianca murders; tangentially tied to the "White Album" by Charles Manson's (mis)reading of certain lyrics. That he was able to incite a bunch of confused misfits into sociopathy remains a fascinating area of study, and SATB has previously explored the purported ties between Charlie's "gospel" and what the rest of the world heard as simply great music.
But reporter and Beatles confidant Ivor Davis is back, with a new book summarizing his investigation into the case, which dates back to day one. Manson Exposed: A Reporter's 50-Year Journey into Madness and Murder has just been published, and he's here to present a timely summation of the case, just as public interest has been again raised with director Quentin Tarantino's latest, Once Upon A Time...in Hollywood.
Not only is Ivor uniquely placed to discuss the film, but also to talk about a couple of Beatles events he'd personally witnessed while accompanying them on tour: their 1964 meeting with Bob Dylan, as well as their 1965 visit with Elvis.